When creating content for your website or blog, it's important that the images are optimised for the web for reduced loading times and a better user experience.
There are plenty of tools that you can use to resize images – programs like Adobe Photoshop is probably one of the most common, as well as free alternatives like GIMP and PicMonkey. But what happens when you have multiple images and you don't really want to have to go in one by one and set the image size and quality? The aforementioned tools don't allow for batch resizing which can be a pain, especially when you're adding a gallery of photos which could potentially be huge.
Modern cameras and even the ever advancing cameras on smartphones produce images with huge file sizes, so it's imperative that your images are optimised for the web. You could typically get images with file sizes of 10MB+ from a decent camera, so for someone with slow internet it would be like streaming a HD movie on dial up.
I did some research on how to get around this, and I came across a nifty program called FastStone Photo Resizer. It allows you to insert a large volume of photos, and then choose from a host of manipulation options, from aspect ratio resizing, file type, watermarking and much more.
According to FastStone.org, the program lets the user:
[list][item icon="fa-check" ]Convert and rename images in batch mode[/item]
[item icon="fa-check" ]Support JPEG, BMP, GIF, PNG, TIFF and JPEG2000[/item]
[item icon="fa-check" ]Resize, crop, change color depth, apply color effects, add text, watermark and border effects[/item]
[item icon="fa-check" ]Rename images with sequential number[/item]
[item icon="fa-check" ]Search and replace texts in the file names[/item]
[item icon="fa-check" ]Preview conversion and renaming[/item]
[item icon="fa-check" ]Support folder/non-folder structure[/item]
[item icon="fa-check" ]Load and save settings[/item]
[item icon="fa-check" ]And much more…[/item][/list]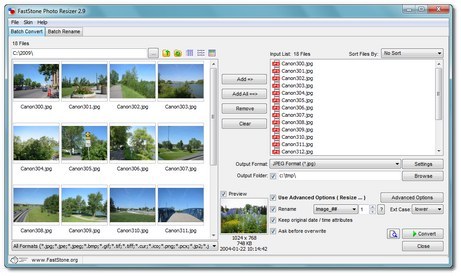 I use this tool for both my hobbies, such as this blog, and work. It's incredibly simple to use and doesn't require a lot of technical know-how, it's a simple drag and drop tool and then selecting a size you wish the photo to resize to.
This is not a sponsorship in any way, just a tool I found useful and hope you will too!
[button link="hhttp://www.faststone.org/FSResizerDetail.htm" icon="fa-download" side="left" target="blank" color="6eb0e2″ textcolor="ffffff"]Download FastStone Photo Resizer for free[/button]